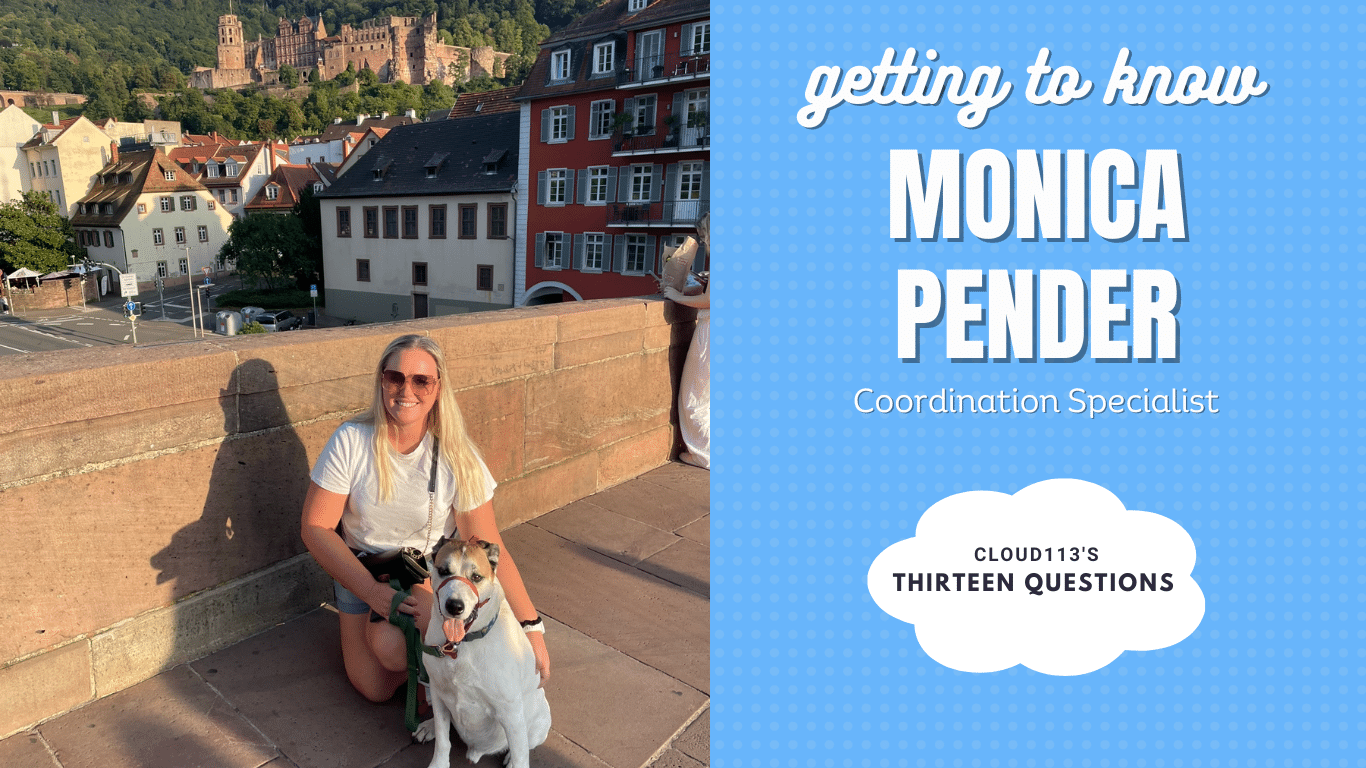 Our newest addition to Cloud113 is a world traveler, podcast lover, and master coordination specialist! Seven months ago Monica joined our team and she has been working hard learning and ensuring that projects are executed efficiently, meeting the timelines and goals. She is also becoming a great resource when it comes to needing help with Salesforce.
13 Questions with Cloud113
How long have you been in the Salesforce ecosystem
I have been in the Salesforce ecosystem for less than a year.
How did you end up in Salesforce ecosystem?
I had recently left my recruiting position and was open to new opportunities. Ryan reached out to me via LinkedIn. (Never underestimate the power of networking!)
Do you have a favorite SF product or one that you like working with the best?
Salesforce Sales Engagement has been an interesting sales prospecting tool that we are setting up for several of our clients. Our clients have been seeing strong positive results when it comes to booking more meetings  in less time. We have been able to provide a lot of help with Salesforce Sales Engagement.
Do you have any pets?
Yes! I have a Treeing Walker Coonhound named Finn. (He's named after a Star Wars character) He goes everywhere with us. He is a mama's boy.
 Where is your favorite place to visit?
I love visiting Disney World, specifically, here is just something about walking down Main Street USA where nothing else matters in the world at that moment.
Is there somewhere you've never been to but want to visit?
Australia/New Zealand.
 If you could only eat 3 things for the rest of your life, what would they be?
Diet Coke, Cheez- Its, and since moving to Germany I have become very fond of and I could eat that every day. Rahmschnitzel is a traditional German dish consisting of breaded and fried veal or pork cutlets served with a creamy mushroom sauce. The name "Rahmschnitzel" comes from the German word "Rahm," which means cream, and "Schnitzel," which refers to a breaded and fried cutlet.
Do you have any hobbies?
Hiking, baking, traveling, and binge watching shows on Netflix.
Have you ever attended any Salesforce events? (Dreamforce, Worldtour, User groups
I haven't had the opportunity yet but I do look forward to the possibility in the future. I've heard that Salesforce has a World Tour in Dusseldorf.
 Favorite type of music? genre or band
You can find me listening exclusively to Taylor Swift, however I am actually more of a podcast fan. At this time, I love Crime Junkie.
Do you cheer for any sports teams?
I grew up in southern Ohio and in a baseball family so I cheer on the Cincinnati Reds. I am also a Cleveland Browns fan.
 Before working in the Salesforce ecosystem, what was the most interesting job you had?
I was a lifeguard at Walt Disney World for a short period of time. It was the best job in college. Additionally, I was a store manager for Starbucks which I loved as well.
What are 3 words to describe Cloud113?
Dynamic, Customer-centric, Reliable – especially when it comes to help with Salesforce!
Let's Work Together
Are you ready to take your business to the next level with Salesforce? Don't miss out on the opportunity to supercharge your growth and streamline your operations. Reach out to us today and discover how our expert team of Salesforce Partners can tailor a solution specifically for your needs.
Do you need help with Salesforce? Whether you're looking to optimize your customer relationship management, boost sales productivity, or enhance your overall business efficiency, we're here to help you succeed. Contact us now to schedule a consultation and let's embark on this transformative journey together.
Your success is just one click or call away. Book a meeting with us today, and let's make your Salesforce experience a game-changer for your business!