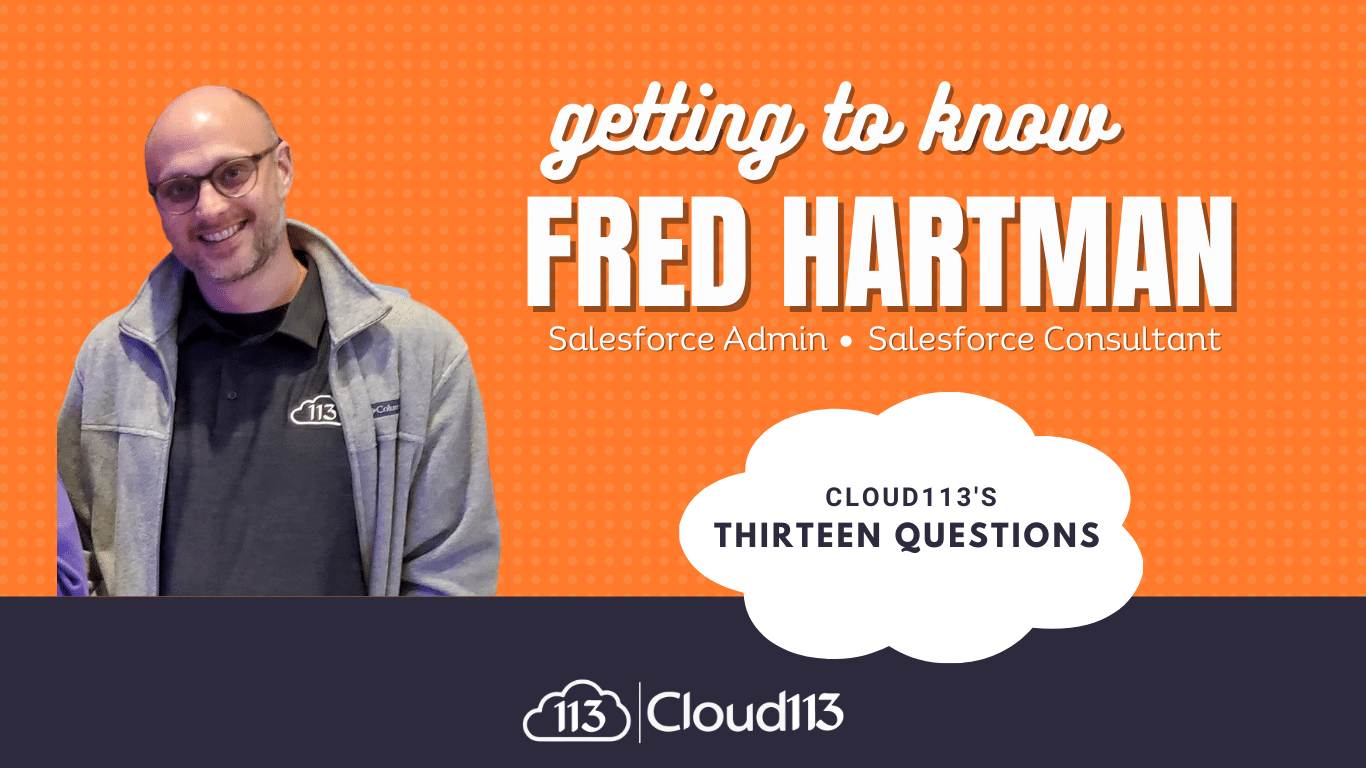 At Cloud113 we have some amazing team members. One of our longtime, talented Salesforce Admins, Fred Hartman, has been with us for a little while now!
 How long have you been in the Salesforce ecosystem? I have been in the Salesforce ecosystem for ~4 years
How did you end up in Salesforce ecosystem?  I was working in the medical world before working at Cloud113 and was looking for a change of pace. I got an opportunity to work with Salesforce and found it challenging and rewarding and have been chugging along ever since.
Do you have a favorite Salesforce product or one that you like working with the best? I have enjoyed working with CRM Analytics and Sales Cloud the most.
Do you have any pets?  I have a St. Bernard and she is awesome.
Where is your favorite place to visit? Spain, particularly northern Spain. Galicia and the Basque Country are personal favorites of mine. Amazing food, amazing people, amazing scenery, can't really go wrong with either of those areas.
Is there somewhere you've never been to but want to visit? I would love to visit the Faroe Islands. Seems like a really beautiful part of the world and I am always intrigued by places that are a bit more isolated than the norm.
 If you could only eat 3 things for the rest of your life, what would they be? Mussels, Lasagna, and Kimchi… not at the same time of course.
Do you have any hobbies? I enjoy reading, gardening, collecting records, playing music, traveling (when I can).
Have you ever attended any Salesforce events? (Dreamforce, Worldtour, User groups)  I attended the Salesforce World Tour up in NYC a year or two ago. It was a lot of fun and a great way to learn new things about Salesforce.
 Favorite type of music?  I am a big music nerd and will listen to mostly anything. If I had to pick a favorite I would say David Bowie, I have been a fan of his music since I was a child.
Do you cheer for any sports teams? I am a fan of the Sixers and Tottenham Hotspur. I am a glutton for punishment, apparently.
 Before working in the SF ecosystem, what was the most interesting job you had? Before working for Salesforce I worked in a Biobank (exactly what it sounds like) which housed specimens mostly used in oncological research. It was… um… interesting.
What are 3 words to describe Cloud113? Attentive, reliable, agile
Are you looking for help with Salesforce? Have you thought about adding Salesforce CRMA? It's time for you to start working with a Salesforce Partner with an expert Salesforce Admin, like Fred, today!