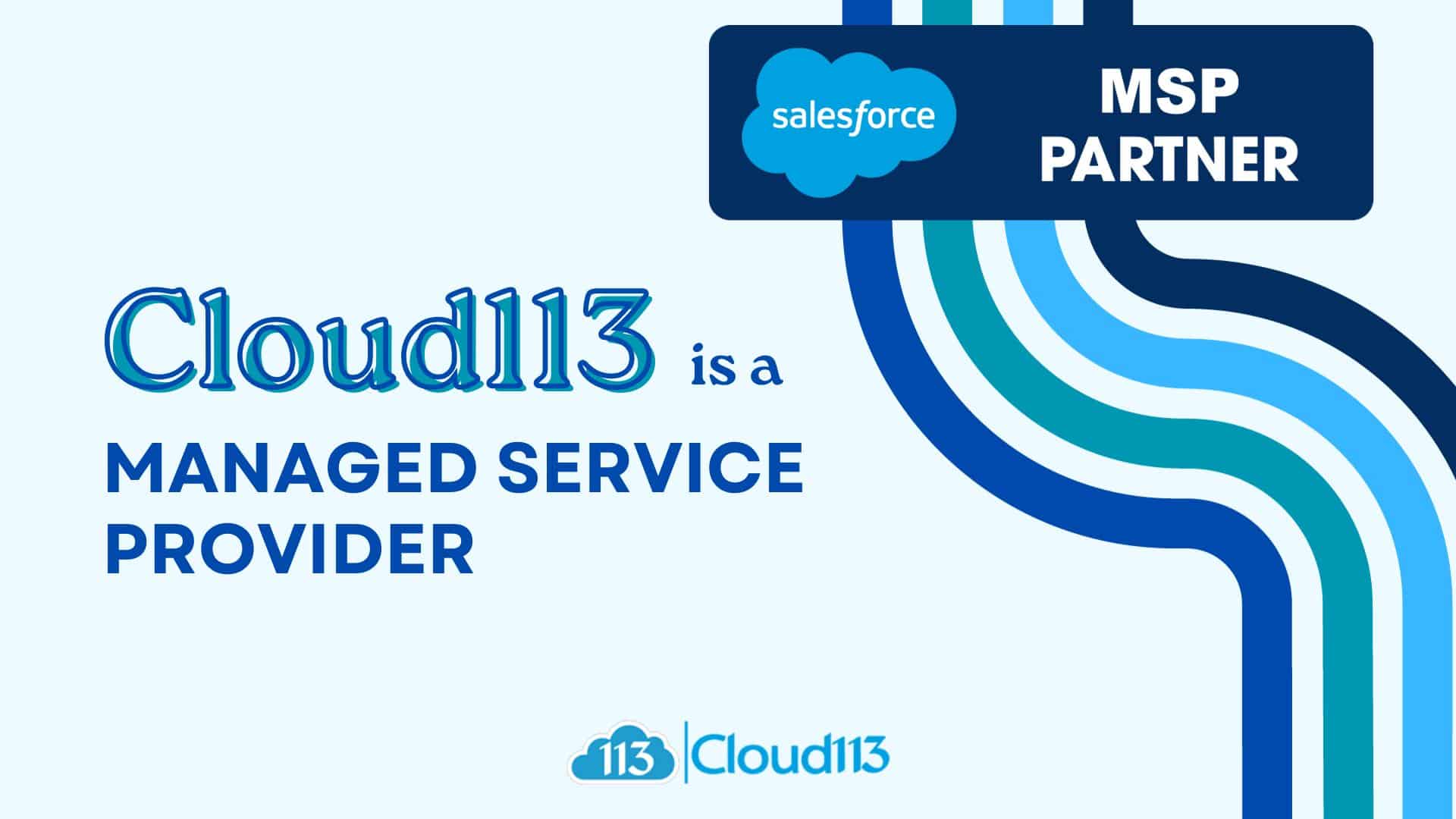 Cloud113 is excited to announce that we have expanded our services and are now a Salesforce Managed Service Provider (MSP) in addition to being an Implementation Partner and ISV Partner (check out our custom Salesforce applications PaintedPath and Email Validator).
Balancing Salesforce Support Requests and Updates
Salesforce is constantly evolving, rolling out new features and updates. While these releases bring exciting new functionalities, they can sometimes overwhelm small and medium-sized businesses trying to keep up. Some updates introduce fun little features, like interactive emojis, meanwhile others include critical changes and deadlines.
Maintaining Salesforce effectively is essential for businesses of all sizes. While larger enterprises may have dedicated Salesforce teams, smaller contenders often hire a Salesforce Administrator. A Salesforce Admin is an invaluable resource for day-to-day tasks, however, these responsibilities can quickly accumulate. Balancing internal requests with special projects can become challenging.
That's where Cloud113's Salesforce Managed Service Provider (MSP) services come in. As a specialized service provider, we offer ongoing support, maintenance, and optimization services for organizations using Salesforce as their CRM platform.
What Can a Salesforce Managed Service Provider Do For You?
Technical Support: Our helpdesk support and Salesforce Admins are available to address issues, troubleshoot problems, and answer questions about Salesforce functionality.
System Maintenance: We ensure your Salesforce system runs smoothly by performing regular updates, patch management, and system monitoring.
Customization and Configuration: We make changes to Salesforce configurations, workflows, and custom objects to meet your evolving business needs. This includes adding new fields, automating processes, or creating custom reports and dashboards.
Data Management: We handle data within the Salesforce platform, including data migration, data cleansing, and data backups to maintain data integrity.
User Training: We provide training and guidance to help your team make the most of Salesforce's features and capabilities.
Security and Compliance: We configure Salesforce with appropriate security settings and compliance measures, such as role-based access control and data encryption.
Integration: We integrate Salesforce with other business systems and applications to streamline data flow and processes. Think about e-signature platforms like PandaDoc , PDF Butler – Salesforce Document Generation and DocuSign, or accounting solutions like Sage Intacct, Xero or Intuit QuickBooks.
Performance Optimization: We continuously optimize your Salesforce environment for better performance, scalability, and efficiency.
Release Management: We manage Salesforce releases and updates, test new features, and ensure a smooth transition.
Reporting and Analytics: We create and maintain reports and dashboards to provide valuable insights into sales, marketing, and customer service data. Our team has a track record of delivering numerous successful Tableau dashboards.
Documentation: Additionally, we keep documentation up-to-date for system configurations, processes, and customizations.
Consulting and Strategy: We offer strategic guidance to leverage Salesforce to achieve your business goals, improve efficiency, and drive growth.
Emergency Support: We're available to handle urgent issues and outages promptly.
What Are You Waiting For?
Cloud113's Salesforce Managed Service Provider services empower organizations to maximize the value of their Salesforce investment. We ensure that the platform is well-maintained, tailored to your specific needs, and aligned with your business objectives.
We work with Financial Services, Manufacturing, High Tech, and other sectors. Lastly, when you partner with Cloud113 as your Salesforce Managed Service Provider, you can prioritize your core operations while entrusting the management and optimization of Salesforce to our team of experts. Now is the time to get working with Cloud113!