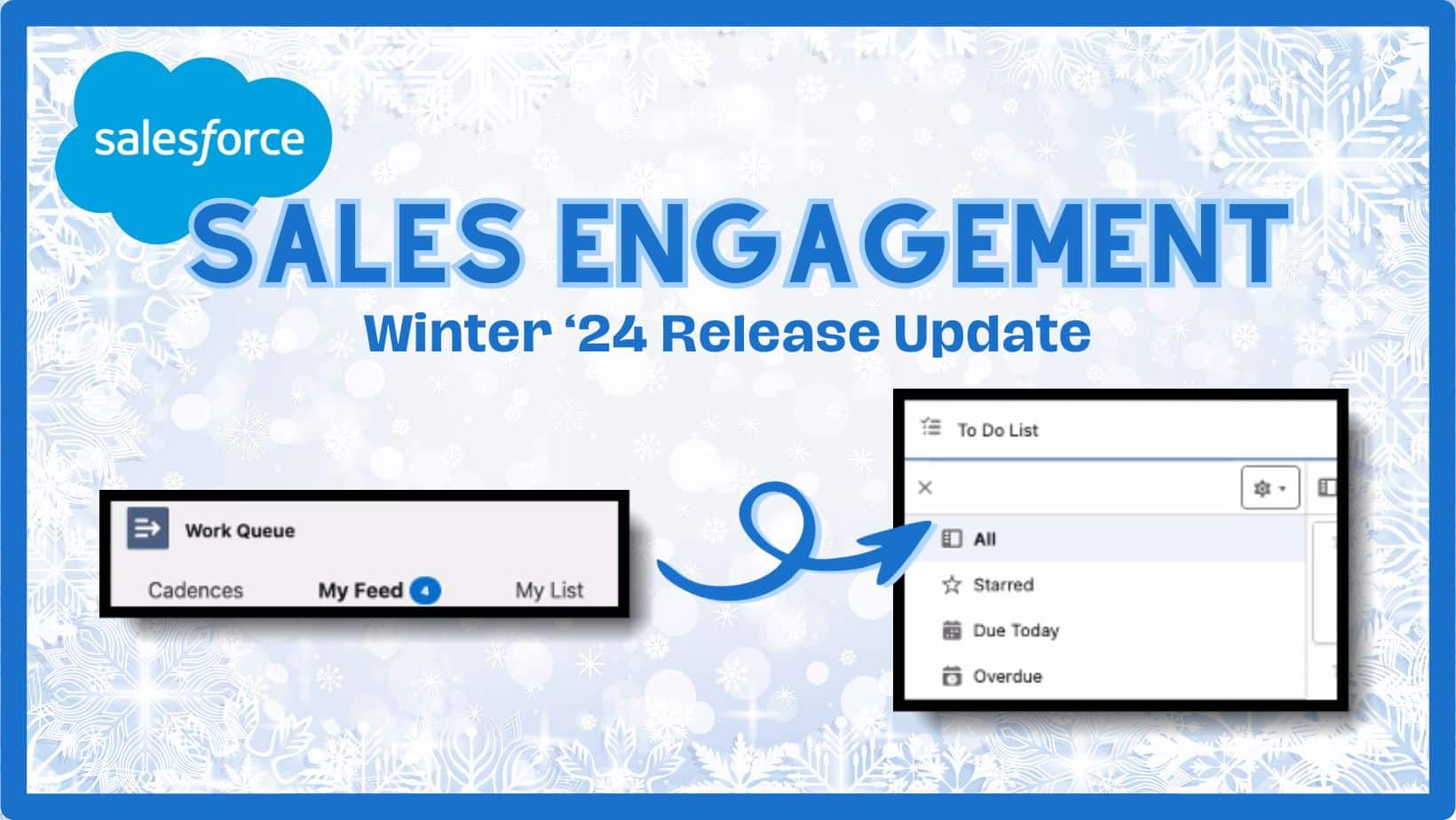 The Salesforce Winter 2024 Release continues to roll out in production over the next few weeks. If your company utilizes Sales Engagement, previously known as High-Velocity Sales, to build out sales cadences and stay on top of prospect outreach, there is an important update you need to be aware of – the transition from Work Queue to the Sales Engagement To Do List.
Goodbye Work Queue, Hello to the Sales Engagement To Do List
As a Sales Engagement user, you're familiar with the Work Queue. This feature is used for managing your upcoming sales cadence tasks. In the last few weeks, you've most certainly seen the bright orange banner across your Work Queue. The banner encourages users to start transitioning from the Work Queue to the Sales Engagement To Do List. This message exists because Salesforce will be retiring the Work Que in future releases.
In previous versions, Sales Engagement updates appeared in your Work Queue, while separate tasks populated your To Do list. Acknowledging the inefficiency of toggling between these two, Salesforce aims to simplify user experience. Now, the idea is that you can effortlessly access all your tasks and cadence follow-ups in one unified place, aiming to streamline the user experience.
Why the Emphasis on the Sales Engagement To Do List?
The To Do List has been activated by default for users across all editions within the utility bar of the Sales Engagement app. If you've tailored a custom app, be sure that the To Do list is added to your utility bar items.
The revamped Sales Engagement To Do List now merges cadence steps with regular tasks. This integration means you no longer need to alternate between different sections.
When will Salesforce Retire the Work Queue?
Salesforce confirmed the Work Queue will not be retired for at least another 12 months Salesforce Winter 2024 release. Nonetheless, with this considerable advance notice, they advocate for an early transition to the To Do List feature.
There is plenty of time to get your Sales Team comfortable utilizing the Salesforce Sales Engagement To Do List before it is retired. Make sure that you stay ahead of change management within your organization! Cloud113 is the one-stop shop for everything Salesforce Sales Engagement. Contact us for Sales Engagement training today!