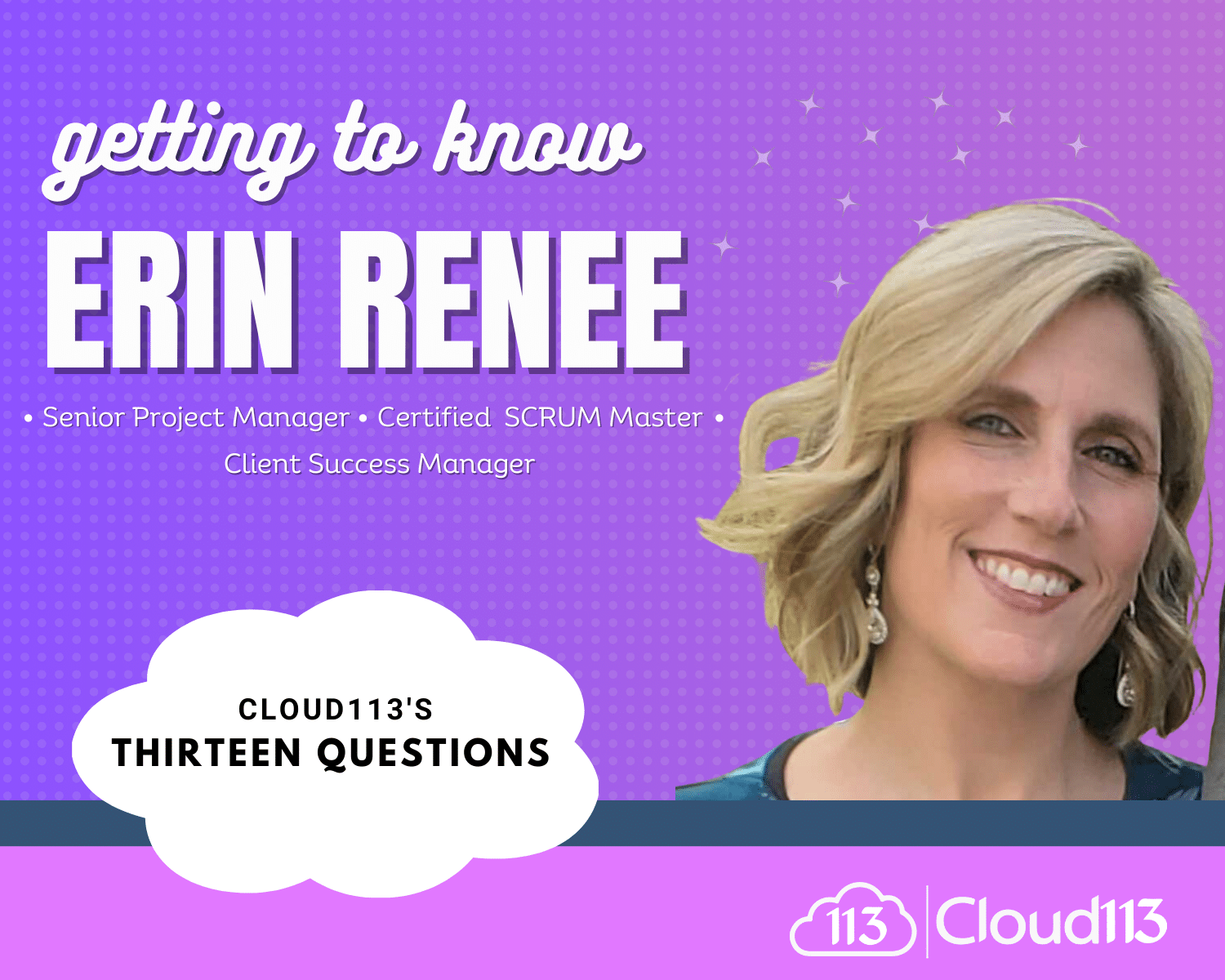 Cloud113 has been a leading area Salesforce Partner since 2011. Throughout our journey, we've been privileged to work with many talented Salesforce professionals. Among them, one stands out distinctly — our Senior Salesforce Project Manager, Erin Renee. Also known as our Client Success Manager, Erin holds a special place in the Cloud113 family, playing a pivotal role in our continued success. Her unparalleled expertise, organizational skills, and dedication have greatly contributed to numerous successful projects, most recently an epic Salesforce Sales Engagement implementation.
This month, in our Salesforce family spotlight series, we've posed 13 questions to our Salesforce Project Manager, Erin. Our aim? To give you a closer look into who she is outside the office!
How long have you been in the Salesforce ecosystem? Almost 5 years – April 2024 is my

work-

iversary.
How did you end up in Salesforce ecosystem? I was recruited based on my current skills

 as a manager

. 
Do you have a favorite Salesforce product, such as Experience Cloud or Service Cloud, or one that you like working with the best?  I would say Sales Engagement is quickly becoming a favorite. Our team is configuring some really cool cadences internally and for our clients. We have seen a big improvement in our client's processes and success with these implementations! We are also now offering corporate trainings for Sales Engagement.
Do you have any pets?  A cat, through marriage.
Where is your favorite place to visit?  Bali and Spain were both pretty amazing for different reasons. I always love visiting my parent's house for comfort.
Is there somewhere you've never been to but want to visit? There are so many! Portland, Oregon, and the Red Wood Forest to name a few US locations. St. Petersburg, Amalfi Coast, Portugal… the list could go on!
 If you could only eat 3 things for the rest of your life, what would they be?   Raspberries, tacos, Reese's Peanut Butter cups.
Do you have any hobbies?  Hiking and kayaking… anywhere to play in a creek!
Have you ever attended any Salesforce events such as Dreamforce, World Tour, or User groups?  In the past, have been to multiple World Tours and User groups in NYC & Philadelphia respectively.
Do you have a favorite type of music, genre or band?  I love Folk Rock – Mumford & Sons and the Lumineers are top of my playlists currently
Do you cheer for any sports teams? Pittsburgh Steelers as they are my home team. Now that I live in the Philly area, of course the Birds and the Phighting Phillies.
 Before working in the Salesforce ecosystem, what was the most interesting job you had?  Before Salesforce. my most interesting job was probably a table games dealer turned Supervisor at a Casino.
What are 3 words to describe Cloud113?    Feels like Family, Agile, Innovative
Looking for Salesforce Help?
Are you looking for help with Salesforce? Have you thought about Salesforce Sales Engagement? It's time for you to start working with a Salesforce Partner with an expert Salesforce Project Manager, like Erin!