Hey Salesforce, as you already know, Slack Dark Mode is really cool and reduces the strain on your eyes when you use it.  The team at Cloud113 utilizes Slack all day, every day in order to communicate effectively, track projects, and automate business processes. 
In this next section, we are going to show you how to set up slack theme colors for your workspaces.    Why would you set up different theme colors?
We have a rule of thumb for our Salesforce clients that are migrated to or already using Salesforce Lightning.  Change the default color scheme in Lightning to your company's theme colors. Since we know that users like to feel connected to their applications, we recommend that you change your default theme color in slack to match your company's colors.
On a more practical level, when you use multiple workspaces, selecting a different theme for each one to help you quickly tell them apart. Your new theme will appear whenever you open that workspace, including on the desktop app, browser, and mobile app.
How To Set Up Slack Theme Colors For Your Workspaces? Adjust your Slack Theme Colors, while in Themes…scroll down and choose your own style.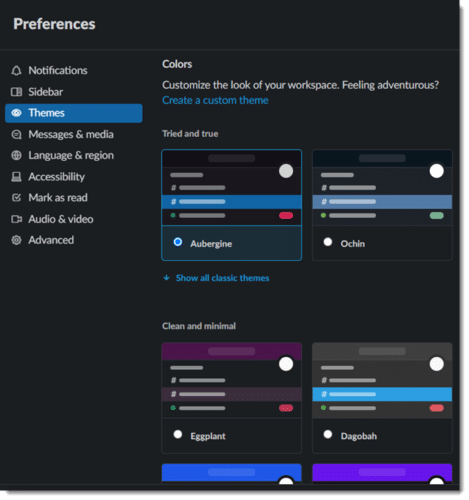 It's easy, just pick an existing theme. Slack has 6 predesigned themes:
Aubergine – This is the default theme you've been using since first joining Slack. Fun fact: Aubergine is the color of an eggplant.
Hoth – For the Star Wars fans out there, this all-white design theme represents the icy planet seen in The Empire Strikes Back.
Monument – This design theme came to Slack in 2014, and features a sharp contrast of turquoise and light orange.
Choco Mint – You can probably guess which theme Slack was going for with this one. Mint green and chocolate brown.
Ochin – Some consider Ochin to be Slack's dark mode for those who enjoy working with the lights off.
Work Hard – Similar to Choco Mint, however, the brown is swapped for charcoal and the mint is swapped for a yellowish-orange.
You can also customize each theme to meet your needs.  Just follow the options below in the image to use the exact colors that match your company's colors!