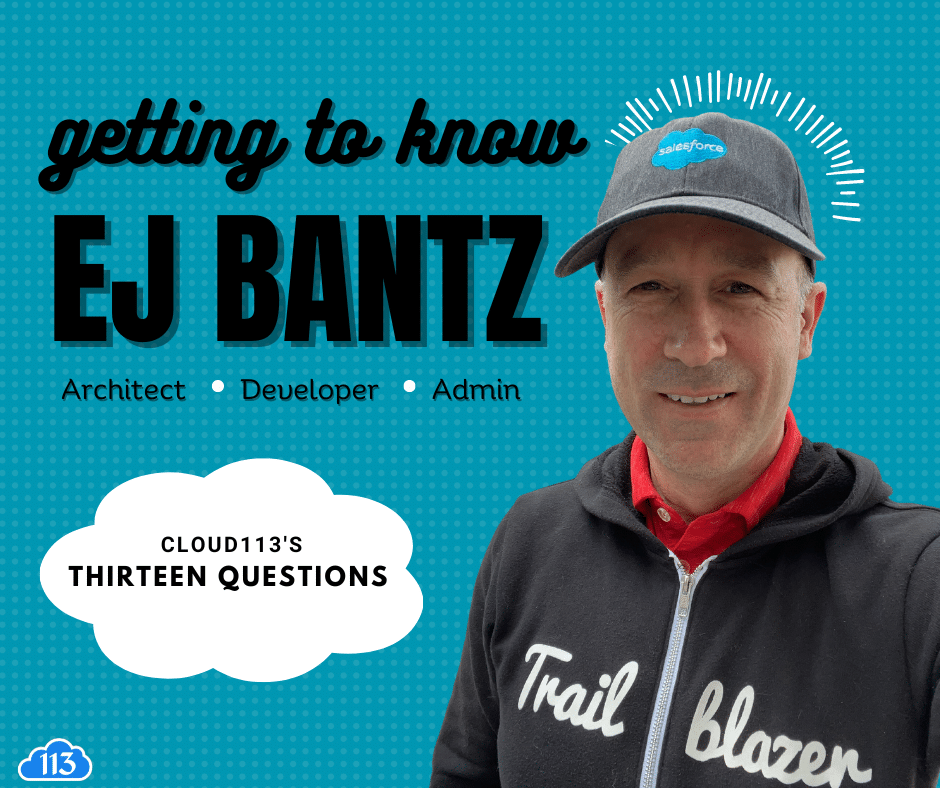 At Cloud113, we put a lot of emphasis on our "work family". Let's be honest; we basically spend just as much time, if not more,  with the people we work alongside of as we do our real families. With that being the case, we feel it's important to highlight those who are part of the Cloud113 family. Today we want to introduce a Cloud113 Salesforce Expert, EJ Bantz.
EJ has been working with Cloud113 Salesforce expert for a few months now, and boy are we glad to have him! Not only is EJ a Salesforce Expert, he is also a Salesforce Developer, Architect and Admin. We asked EJ 13 questions so you can get to know him better.
How long have you been in the Salesforce ecosystem? 10 – 11 years
How did you end up in Salesforce ecosystem? I was part of the leadership team for a consulting company, and I started researching Salesforce because it was on the top of the list of trending technologies.   I had never heard of it before and decided to learn what it was all about.   About the same time we had a client that needed to migrate from Microsoft Dynamics to Salesforce and I volunteered to help.    My first project was doing .Net to Salesforce coding and quickly became obsessed with it.
Do you have a favorite Salesforce product, such as Experience Cloud or Sales Engagement, or one that you like working with the best?   Nope, I love it all.
Do you have any pets?   Personally, I don't enjoy having pets… but I try to not stop the rest of the family from having them.   We have 2 dogs, 3 cats, a tortoise, a fish, and a horse.   I'm not sure a horse is considered a pet for some reason though.
Where is your favorite place to visit?   I don't really enjoy visiting places.
Is there somewhere you've never been to but want to visit?  Nope, I'm pretty content just being in one place.
 If you could only eat 3 things for the rest of your life, what would they be?    Sausage Egg McMuffins, Pizzas, and Hamburgers.
Do you have any hobbies?   These days it's Salesforce, Minecraft, and Pokemon Go.
Have you ever attended any Salesforce events such as Dreamforce, World Tour, or User groups?  I try to attend as many events as I can.  I've been to many Dreamforces, Chicago World Tours when they had them, Salesforce Saturdays, Milwaukee, and Madison user groups.   I've also been to Midwest and Florida Dreamin events.
Do you have a favorite type of music, genre or band?   Mostly listening to Taylor Swift but 80s rock would be my favorite.
Do you cheer for any sports teams? Nope.
 Before working in the Salesforce ecosystem, what was the most interesting job you had?   I used to code voice response systems (like Press 1 for this Press 2 for that).  I thought that was a little interesting.  I got to make a lot of demos for the sales team and it was fun recording my voice to be used.
What are 3 words to describe Cloud113?    Salesforce.  Expertise.   Flexible.
Are you looking for help with Salesforce? I think it's time to reach out to a Cloud113 Salesforce Expert!