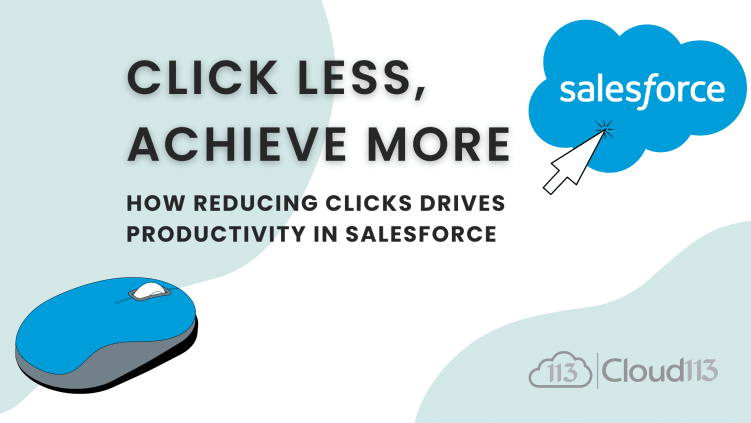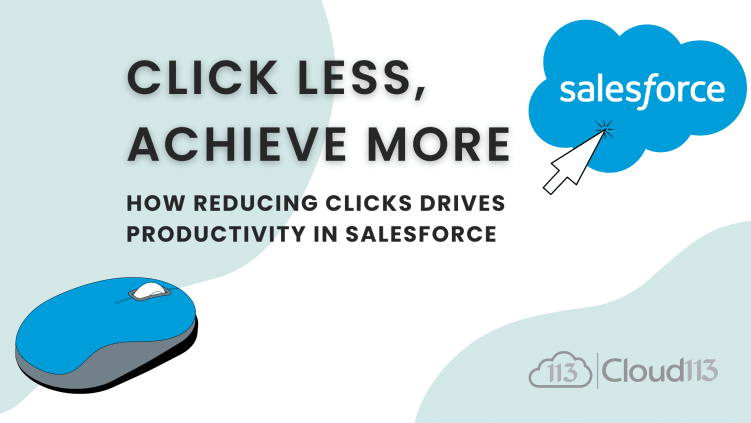 In the realm of CRM, Salesforce is arguably the Holy Grail. At Cloud113, we've identified an often-overlooked aspect of Salesforce interactions – the number of clicks it takes to perform a task. It may seem trivial, but reducing the number of clicks within a Salesforce org can have a profound impact on productivity. Keep reading to learn why Reducing Clicks Drives Salesforce Productivity.
Understanding the Click Quandary in Salesforce
The simple action of clicking seems minor, but when you're navigating through the various layers of Salesforce – be it managing leads, tracking opportunities, or generating reports – each click adds up. A task that takes five clicks, performed multiple times a day, can translate into a considerable chunk of time over a week or a month.
The Impact of Fewer Clicks in Salesforce
Reducing the number of clicks in Salesforce can have several profound impacts on productivity:
1. Time Efficiency
Less time spent clicking means more time engaging with clients or focusing on more strategic tasks. This efficiency can lead to improved job performance and increased sales results.
2. Cognitive Load Reduction
Each click requires a decision and an understanding of where it will lead within the Salesforce environment. By reducing clicks, we lessen the cognitive burden on users, allowing them to concentrate on their core tasks.
3. Enhanced User Experience
A user-friendly interface that requires fewer clicks not only improves the user experience (UX) but also boosts user adoption rates. Happier users are more likely to fully utilize the tool and extract maximum value from it.
Strategies to Reduce Clicks in Salesforce
So, how can we achieve this click reduction within Salesforce? Here are some strategies:
Leverage Salesforce Lightning
Salesforce Lightning is designed with productivity in mind. Its user-friendly interface and customizable components allow users to access the necessary information and perform tasks with fewer clicks. Make sure you're leveraging all its features.
Automate Processes
Salesforce offers powerful automation tools like Process Builder and Flow. These tools can automate repetitive tasks, reducing the need for manual clicks and freeing up your team's time for more strategic work.
Implement Keyboard Shortcuts
Salesforce Lightning Experience offers keyboard shortcuts for common actions, which can dramatically reduce the number of necessary clicks. Encourage your team to learn and use these shortcuts.
Customize Your Org
Salesforce is highly customizable. Take advantage of this by creating custom buttons, links, or actions that streamline tasks, reducing the number of steps (and clicks) to complete them.
Ready to boost your Salesforce efficiency?
While clicks are a part of interacting with Salesforce, they can also represent an area ripe for efficiency improvements. At Cloud113, we work closely with companies to streamline business processes, enhance productivity, and meet their goals, all with fewer clicks. Remember, Reducing Clicks Drives Salesforce Productivity.
Reach out to our team for a free consultation on your company's Salesforce org. Remember, in the pursuit of Salesforce efficiency, every click counts!