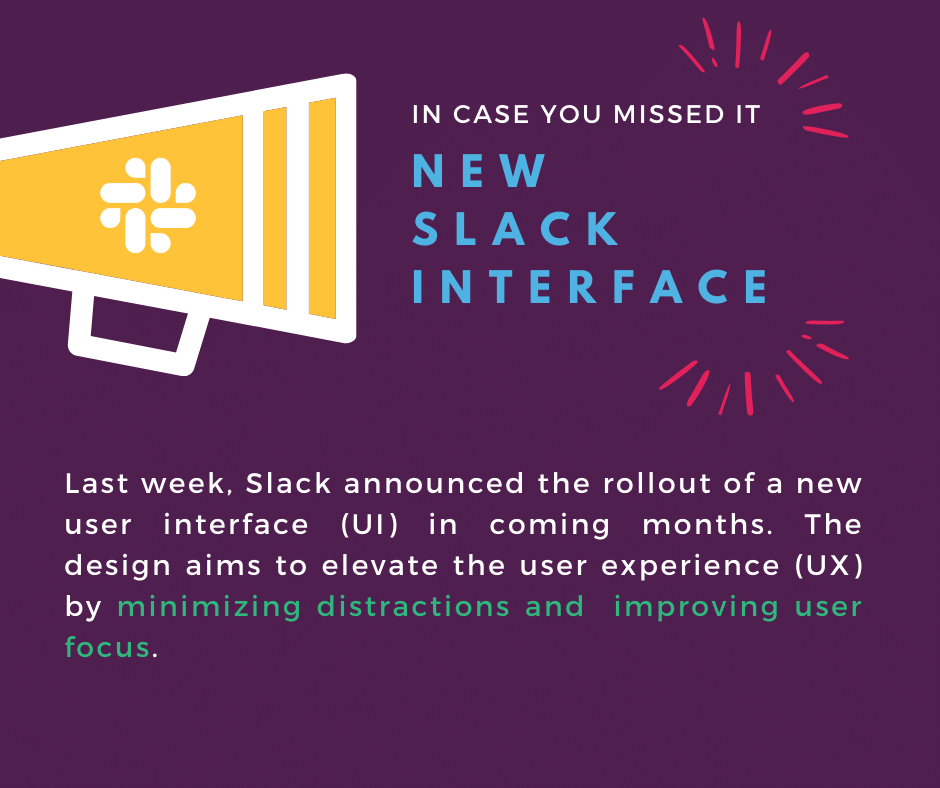 Last week, Slack announced that they are rolling out a new and improved interface that will elevate the user experience. In the coming months, Slack users will see changes to the platform that aims to improve user focus through simplifying navigation. Slack's New Interface Aims to Improve User Focus.
If you've ever worked with Cloud113, you're aware of the emphasis we place on improving the User Experience (UX) and User Interface (UI)  for our clients. Earlier this year, we launched a free application, PaintedPath, that improves the UX by allowing users to customize the colors and confetti their opportunity paths. This is just one way we work to drive user adoption through elevating the UI. We also firmly hold the belief  that less clicks lead to greater productivity, and we are excited to see one of our favorite Salesforce products adopting the same approach by streamlining the crowded interface.
Why is Slack making these changes?
Let's face it – having to always respond to incoming messages, emails, and notifications get's exhausting, and deciding what to respond to when, quickly depletes our energy.  The new Slack interface will improve the User Experience by aiming to achieve the following goals:
Effortlessly navigate conversations and channels to increase productivity and save time
Concentrate on important matters with minimal distraction
Easily access Slack's existing tools to simplify your workday
So, what changes can we expect to actually see?
Slack's New Interface Aims to Improve User Focus  and there's a lot of excitement surrounding the new changes. Here are the actual changes that you can expect to see:
The arguably messy left sidebar of the current interface will be replaced with a sleek panel that will include 5 icons. Each Icon will represent a different View:
HOME – Very similar to the current Slack layout, the home view will allow you to see all your conversations in Direct Messages and Channels
DIRECT MESSAGES – Never lose sight of a direct message. This space will be the hub of you're your DMS. You'll be able to filter through your DMs as well as Search.
ACTIVITY – When an item needs attention it will sit in the activity space. For example, mentions, reactions, threads, and notifications from applications.
LATER – Don't have time to respond to that yet? Save It to "Later" and set an alarm so it doesn't get lost in the midst of a busy work day.
MORE  – This is where you can find applications, User Groups, People, files and more.
When will users see these changes?
Depending on whether or not your company currently uses Slack will affect when you get access to the new interface.
New users and teams will have access to the redesigned layout immediately.
Current teams and users will be given access to the redesign in the coming months.
Looking for more information on new interface?
Slack's New Interface Aims to Improve User Focus and there is even more exciting functionality to look forward to.  Visit Slack's Frequently Asked Question page to learn more!
Internally, our team at Cloud113 is looking forward to seeing an elevated user interface rolled out with one of our favorite communication tools. Are you looking to elevate your company's User Experience? Let's set up a meeting to discuss how we can work together and improve your Salesforce orgs User Interface to increase user adoption.
Reach out to Lily Bove at Lily@Cloud113.com or call 800-546-0113 x 119.